Symptom: I have noticed a discrepancy between the different browsers when adding the AgilePoint Dashboard and opening the AgilePoint Workflow Plug-In. The AgilePoint dashboard and AgilePoint workflow plugin do not render when using Internet Explorer but works fine in Chrome and Firefox.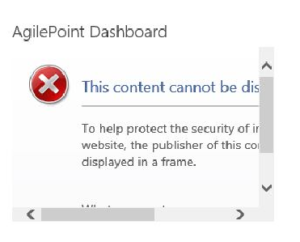 Resolution: Internet Explorer 10+ is supported for AgilePoint NX. The reason for this error is that the Office 365 site is not added as a trusted site as per your organization's group policy. Add following sites to trusted site
https://login.microsoftonline.com
https://<sitename>.sharepoint.com – Your SP Site
Also add your AgilePoint portal and server URL as trusted site on safer side as best practice.
To add a website to Internet Explorer's trusted sites list, please follow these steps:

Open Internet Explorer (the desktop version if you are using Windows 8)
Press Alt + T on your keyboard to show the Tools menu
Click Internet Options
Click the Security tab
Select the Trusted sites zone
Click the Sites button
Type https://login.microsoftonline.com or other site URL into the Add this website to the zone:field
Click Add
Click Close
Click Apply
Click OK
Close Internet Explorer
Then open Internet Explorer and test to see if you receive the same error message when viewing the app.